Downloads
How to start to play L2Java?
First way: If you already have Lineage2 Interlude (C6) client, just download our L2Java_patch.rar and extract it to the clean L2 Interlude client. That's all and now you can miss the second way!
Second way: If you don't have Lineage2 Interlude (C6) or just want to start to play here in an easy way, then please download our L2Java Full Client and extract it (already including everything that is needed.)
If you did everything correctly, your Lineage2 folder should look something like this: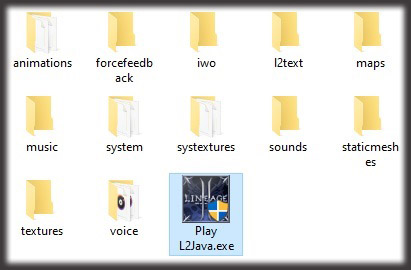 Now just press on Play L2Java.exe and enjoy!
OPTIONAL
By default we use Kameal (brown) Interface, who don't like it and want to use Interlude (blue) interface, just download this L2UI_CH3.utx file and paste it to L2Java/systextures folder, thats all!
P.S. The first time you run our updater, it will test all client files and download all the missing or corrupted files, it may take some time, but don't worry the next time it will run much quickly!
P.S.S. If you have any problem in the future, just click "Check files". And our updater will check again all needed files!
Supported OS: Windows 7, Windows 8, Windows 8.1, Windows 10, Windows 11 (not ARM)
Attention! If you have connection problems. Be sure that you closed all open programs, turned off antivirus/firewall. Becouse we have custom protections!